The best-selling series that takes you inside Three-Day Eventing!
Jules is young, tough, and doesn't need anyone's help. She's going to become a top event rider despite everything the world has ever thrown at her.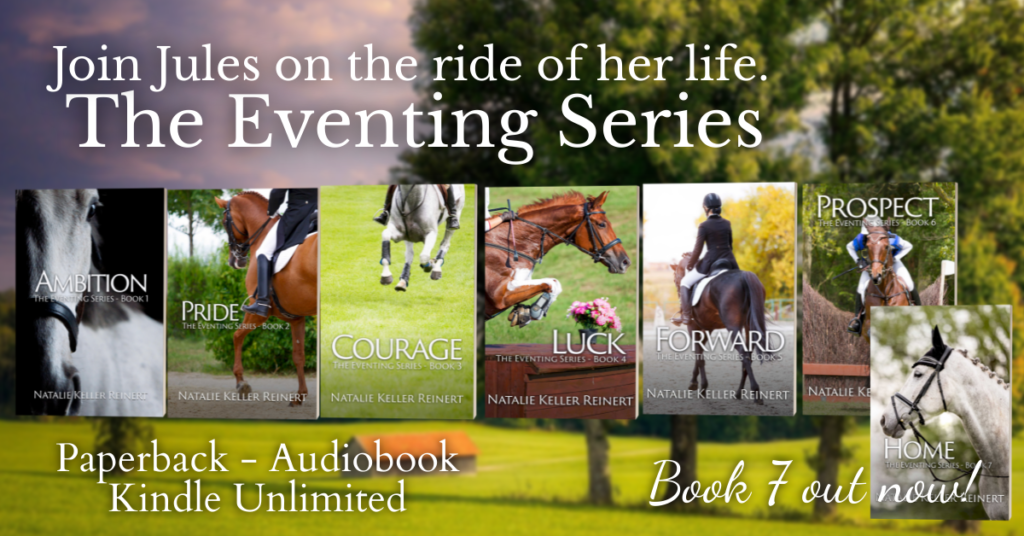 But one summer in Ocala is going to change everything.
Discover the fan-favorite book series that has been featured everywhere from Horse Illustrated to Equisearch. Ambition begins the six-book (and growing!) series about Jules Thornton, the horses she loves more than anything, and fellow eventer Peter Morrison.
Throughout this series, contrary Jules grows into herself as an equestrian, a trainer, and a human. Plus, her horses are moving up the levels, conquering new heights in eventing, and taking Jules places she never expected.
Jump in now and find out why Jules is the character thousands of equestrians love to hate — until they fall totally in love with her.
Read the prequel for free! Click here to download Bold – The Eventing Series: A Prequel for FREE!
Shop the series!
Available from Amazon in Paperback, Kindle, Kindle Unlimited, Audiobook, & Audible
Available from Taborton Equine Books in Paperback
Shop IndieBound for Paperbacks from your local indie store
Reviews for The Eventing Series
"This is a beautifully written story. In Jules Natalie Keller Reinert has created a barbed wire heroine who still, despite her arrogance, and her pathetic inability to see the good in people, still has something about her that catches at your heart." – Jane Badger at Books, Mud and Compost.
"Natalie's strength as a writer lies in the fact that she is both a storyteller and a horse person. Natalie weaves the story of Jules, her horses, and their uncertain road to the upper levels of eventing with realism and detail. Her firsthand experience with horses is evident, and she uses that experience to develop both the human and the equine characters." – The Equine Insider
Coming to Kindle Unlimited for a TEMPORARY RELEASE February 22nd, and in paperbacks everywhere. Visit Amazon to order the ebook of Home.
Click to find the paperback at your favorite store.
Audiobook coming soon.