Looking for fresh, fun-loving stories which sweep you away?
You've come to the right place!
Big dreams, deep friendships, limitless passion, and a strong sense of place: if you love novels which sweep you away from the real world, you've come to the right place. From equestrian fiction to small town romance to big city hopes, I'm always exploring the passions which drive us, the love affairs which fuel us, and the partnerships – both animal and human – which help us thrive.
I love writing stories which are equal parts an escape from everyday cares and a realistic exploration of our hopes and dreams. And with multiple series and standalone novels, I'm sure you'll find a storyline that sparks your imagination and spurs you to keep on reading – well after you meant to turn out that light and go to bed!
I'd love to get you started with a free book. Click here to download an ebook on me!
Pick a Series – Any Series!
With settings ranging from some of America's most famous racecourses to Florida's uniquely beautiful countryside, you can choose your own adventure.
The only question is, where will you go first?
Dig into horse racing and the humans on the backside of the track with the Alex & Alexander Series or The Hidden Horses of New York.
Experience the Olympic sport of Three Day Eventing with The Eventing Series.
Take a leisurely trip to the Maryland mountains with The Catoctin Creek Series.
Figure out how to balance adult life with your personal passions with The Grabbing Mane Series.
Follow a mature woman's fight to save her business with The Show Barn Blues Series.
Scroll down to read about each one!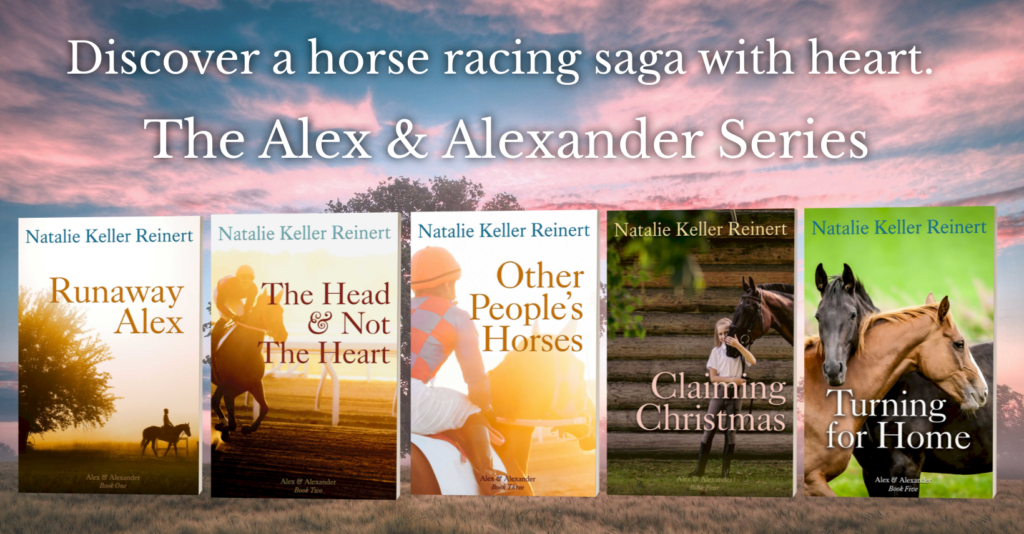 A beloved five-book series chronicling the adventures of an unlikely couple, bound by their love of Thoroughbreds.
From the breeding farm, to the winner's circle, to retirement, readers can explore the world of horse racing for a better understanding of both the sport and the people who love it.
Learn more about the Alex & Alexander series here.
Discover the number-one bestsellers, featuring a hard-nosed young trainer who has to learn to be a good human before she can fulfill her dream of becoming a world-class Event rider. The Eventing Series has been wowing readers and inspiring fans since 2013. The series continues in 2022 with Book 7, Home.
Learn more about The Eventing Series here.
A fan favorite duo of novels set in a show barn so close to Orlando's theme parks, fireworks shake the stalls at night. What would you do if your farm of twenty years is suddenly in danger of closing down? When Grace faces the development threatening her farm head on, she finds trouble approaching from every direction.
Learn more about The Show Barn Blues Series here.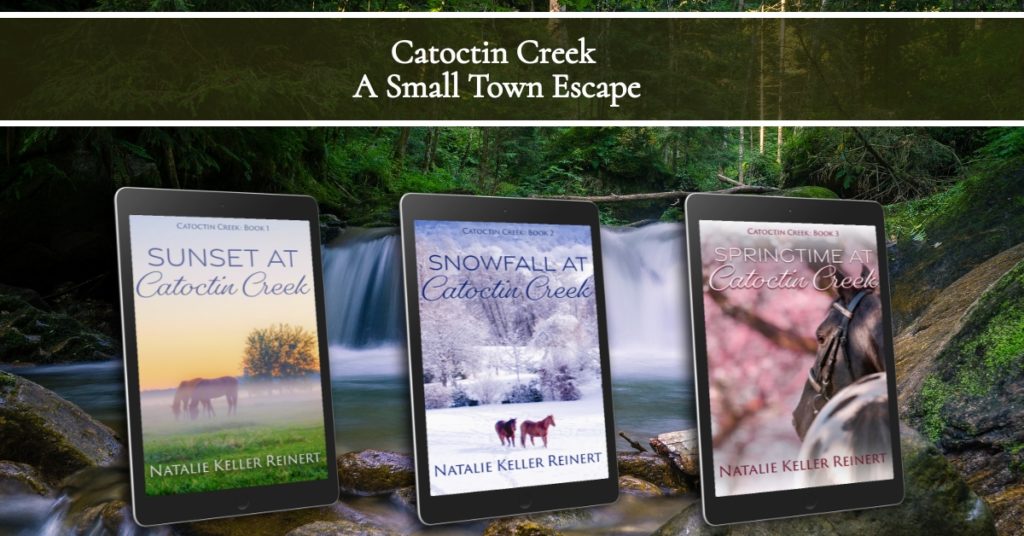 Small-town romance with an equestrian twist, set in the romantically beautiful (and sadly fictional) small Maryland village of Catoctin Creek. Discover a series perfect for cozy evenings and lazy afternoons with these insightful, emotional, and inspiring novels.
Learn more about The Catoctin Creek Series here.

With book two coming in 2021, Grabbing Mane is a runaway bestseller about an adult amateur rider coming to terms with the tough balance between passions and the real world.
A multi-award-winning standalone novel which follows Jenny, a bold young idealist, from the streets of Manhattan to the Saratoga countryside, hoping she'll find love along the way. Winner: 2019 American Horse Publications and 2020 Equus Film & Arts Fest awards.